Hola, friends! :] I'm popping in quickly before I jet off for Easter Sunday church with my mother. First, though, here's a
fantastic
pair of lenses that were sponsored by the ever-amazing
Lens Village
. <3
~ ~
(Oh! And be sure to check out the
Lens Village Blog
~. :] You can find a
ton
of lens reviews, many by the lovely Christina [of
THTChristina
]-- and, eventually, by me. So shoo! Go check it out, yeah?)
~ ~
Enlargement: 8.5/10 These lenses may be 14.8 mm, but they enlarge only about as much as many 14.5 mm lenses do~.
Colour/Design: 9/10 This is pretty simple, eh? This is the pretty recognizable Blytheye/EOS New Adult design. A thin, but solid circle around a vibrant colour. These are rather opaque and very vibrant, but the green is not really a light green. Or rather-- it's not a pastel green. It is pretty solid medium green (although it an look very light sometimes~). Oh, and I get a bit of a halo effect, often-times that I did not see with the 14 mm/J-203 version of this series. :D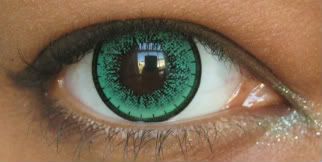 (flash)
- EOS Candy (G-208) Green vs. Dollyeye Blytheye (EOS WM-203) Green -
- Dollyeye Blytheye (EOS WM-203) Grey vs. Dollyeye Blytheye (EOS WM-203) Green -
Comfort: 10/10 Fabulously comfy. *melts*
All in all, I was pretty surprised by these lenses. I only asked for the Blytheye Green and Grey to see how light/opaque the colours are. It turns out they're pretty darn light! Haha. I'm wearing these more than I thought I would. Huh. Very cute and very bright: two qualities that ensure these lenses will stick around for a while. ;]
*
You can watch the video review
here
on Youtube, or view it below.
----

COMING SOON ..
Dollyeye (Dueba) Natural 3-tone Brown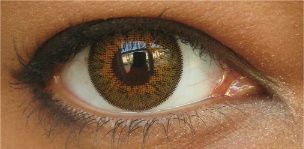 AND
A New Giveaway~~! ;D