Hey! I've had another adventurous (and busy) time recently! I had a head-cold, hung out with Anna (of
Fenua Beauté
) a few times, and officially kick-started the transfer process for the fall semester at a new university. :D
Back on topic, though, here are the fairly recent EOS A3 Grey, which were sent as a gift to me by
Review Circle Lens
(as a thank you for helping out with the site a bit).
(Why yes, my hair is a hot mess.)
Colour/Design: 9/10 Ah, here we are again: this is yet another brand's take on the now-iconic (Geo) Angel Color Bambi design. The EOS A3 series sort of softens the original Bambi design with a thinner dark circle (which has softer 'cut-ins', itself).

The third, brown/gold tone around the center is also fairly 'soft' compared to both of Geo's Bambi series~. These lenses are an opaque, medium grey that is rather visible in daylight, and sometimes looks a bit lighter. <3
(flash)
- (Geo) Angel Color Bambi Sesame Grey vs. EOS A3 (Bambi) Grey -
Comfort: 10/10 Long live EOS and how comfy their lenses are for me!
Overall, the EOS A3 series is one of my favourite incarnations of the original Angel Color Bambi design. I do wish the colour was lighter/more dramatic (as I usually do with grey lenses). The size is also fairly balanced (I felt like the Geo Princess Mimis were too large for me). Honestly, though? I will likely be repurchasing the Angel Color Bambi Sesame Greys (the 1 year version, however). Out of the many Bambi versions from different brands, the original is still my favourite. ♥♥
*
You can watch the video review
here
on Youtube, or view it below.
- - -
And yeah, the promised review of the G&G/Dueba Carnival Solid Red lenses has been postponed: one of the vials shattered in my bag. (Something I have never had happen.) I am short one lens, now. :/ Uh, here's a preview pic of the one lens I do still have.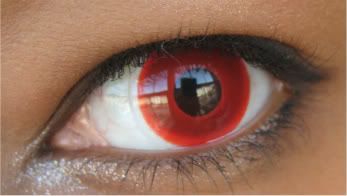 - -- - -- -
COMING SOON...
Fynale J15 Green

&
Luxury Babe 12 Brown