Bah--- I stopped being active on Blogger and my blog died again, eh? D: So sorry to anyone who actually likes my blog enough to check in on it once in a while. <33 Anyway, this flu-thing I have has eaten my appetite, so there's nothing else to do at 7 AM than put up a lens review, I guess. Haha.
*
Surprise, surprise! It's a lens review for something I actually
didn't
like. o: Specifically, my EOS V-205LB Brown from
MyCandyEyes
. I also have the V-205LB Greys (lovely lenses they are), which will be the next review.
- -- - -- -
Enlargement: 8.5/10 Like their grey brethren, the brown V-205LBs are rather enlarging for a 14.2 mm lens.
Colour/Design: 6.5/10 So the V-205LB series features lenses with the same pigment as the V-209LB/Dollyeye series. I was hoping for a more natural version of the Dollyeye Browns I'd owned, which featured a thick, black circle and a blunt pigmentation-- no blending there. Haha. Anyway, colour-wise, these are about right. Although in daylight, they tend to look more like a brassy brown than the yellow-gold of the Dollyeye Brown. Still, as far as a softer version goes, these fit the description. I just feel like the colour clashes with my skin tone...
(true-to-life colour)

(EOS Dollyeye Brown vs. EOS V-205LB Brown)
(flash)
(EOS V-205LB Brown vs. EOS V-205LB Grey)
Comfort: 10/10 EOS means my eyes are in heaven~~ .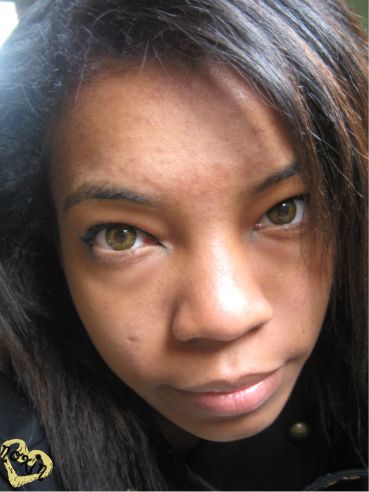 -
Not much to say here. I was hoping for a version of the Dollyeye Browns with a softer circle aaannd..I sorta' got it. :/ I mean, the colour's nice enough, but it changes hues pretty often. @_@ From a distance, they're alright, but somehow, they're not too appealing to me. I miss the 'dramatic' design of the Dollyeyes. >.> I only ever wear these with three outfits: all of them feature golden or tarnished brass buttons so the colour sort of makes sense somehow. The V-205LB Greys, though? My favourite grey lenses ever. ♥
-
And here is
an extra picture
I didn't put into the review.
The video is here on Youtube or viewable below.