Quite a few bloggers have reviewed lenses from the Geo Xtra Bambi series (aka. the Geo Princess Mimi series), so I don't think I need to tell you how these lenses came to be popular. (Angel Color + Tsubasa + pretty lenses = EVERYBODY WANTS A PAIR.) What I
can
tell you is that I bought these lenses from
EyeCandy Lens
(which now has free shipping, actually), and they got to me pretty damn quickly. <3 And now... on to the actual review.
*
Enlargement:
10/10 These are 15 mm. (On
Angel Color
, where the original Bambi series was released and distributed, they are 14.2 mm. This 'Xtra' series version from Geo (
advert)
is 15 mm.) They are
big
.
Colour/Design: 7/10 Hum... you may or may not remember the joyful hysteria many experienced when first gazing upon the Bambi series. I definitely do, and it never really left me until I got these lenses. Haha. As you may know from the many advert pics of this series, the colours usually look light. I guessed that, as Geo lenses, they'd be a medium or dark grey, much like the Geo Angel Grey. I was mostly correct: they're a medium grey. I.... do not like darker colours. :/ Despite that, the design is still gorgeous, and the lenses
so long-coveted that I don't care quite as much as I should. Heh heh. However, once I can get my hands on the true original Bambi series, I'll likely be truly content. 8)
(flash)
Comfort: 9.5/10 Um... I think one lens is defective (i.e. hurts no matter what I do to try and clean it), but sticking to the good lens, these might actually be the comfiest Geo lenses I can remember ever wearing.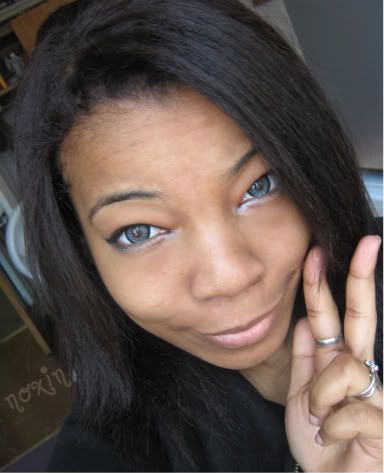 Overall, I've pretty much said my piece: the colour's darker than I would have liked (although it was super obvious that the modeled pics on Angel Color were high contrast & brightness), and they're also a bit bigger than I like. (14 mm is my faaavourite lens size). Despite that, though, I can't help but to still love them. <3 On another note, these are the very first lenses that I actually feel make my entire eye look larger just by wearing them. O:
*
Reading sound a bit tedious? Then check out the video review right
here
or below!