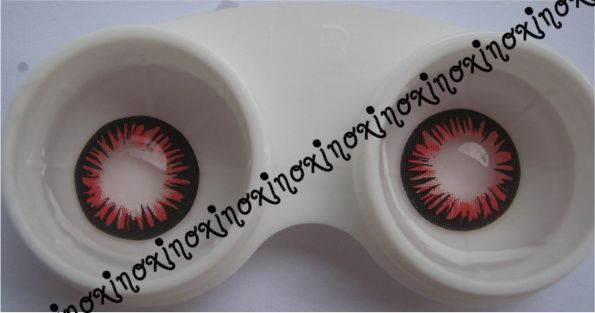 Yes they are red. Yes they are circle lenses. Yes I love them.
-
((If you shop there, Use my VIP code: Noxin, for 5% off your purchase at Apple of Your Eyes. (Not during the current mid-year sale, though: you'll get $3 off per pair))

((On that note, if you become a VIP member on AoYE, you get 10% off lens prices & free shipping for 3 pairs or more))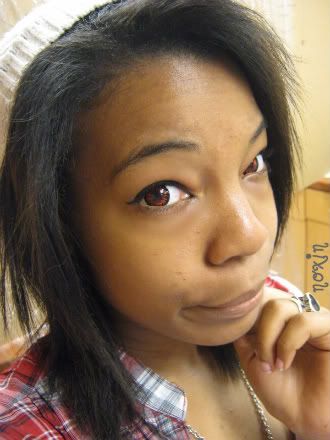 Enlargement: 20/10 Great Osiris are these lenses big. They're supposed to have an enlargement effect of some 15.2 mm. (Their actual diameter, like all the iFairy lenses, is truly only 14.6 mm.) So... yeah. I don't look too bad with them so long as I wear a bit of makeup.
Colour/Design: 9.5/10 Um.... three words: red circle lenses. Also, fifty-five more words: the colour is definitely, unabashedly, red. They're not super in-your-face red, like costume lenses are. There's a bit of class to them, so to speak. The red is nice, even red, just a bit darker than a crayon red. In direct light (indoor or out), though, they shine a cute candy apple red. ♥
(indoors)

(natural light)

(flash)
- i.Fairy Dolly+ Red vs. i.Fairy Ruby Red -

-i.Fairy 'Cherry'/Candy Soul Red vs. i.Fairy Ruby Red -
Comfort: 9/10 I wore them for 7 or 8 hours the other day to work (where the big pics were taken), and they felt alright at the end of the day. :] Not as comfy as my EOS lenses, but for hitting the limit of wearing them in a day, they felt pretty darn good. (They just got a bit dry towards the end of the time.)
Overall: I LOVE THEM MORE THAN I THOUGHT I WOULD. I kinda' thought I'd only wear these lenses once in a blue moon. However, they're actually fairly versatile for red lenses. Weird, I know. It's especially fun to mix and match them with outfits, whether or not there's red present. ♥ They, like my King Pinks, are very photogenic lenses.