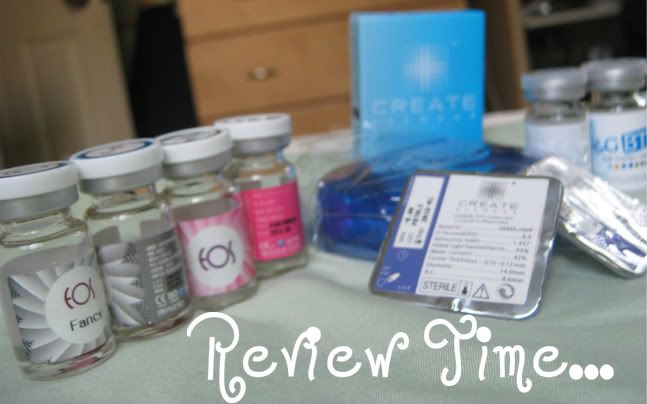 (Feeling lazy? Watch the video review at the end of this post instead of reading.)
This review is for
ColorLens4Less
. Full disclosure: yes, they sponsor me. (Oddly enough, I was trying to buy lenses from them when they offered said sponsorship. Haha.)
Anyway
, that does not mean I can't review their packaging, presentation, communication, and even shipping method(s).
No, they did not ask me to do a store review: I just think it would be nice to give some insight into their service level. Hopefully, this is helpful/informative.
-

ColorLens4Less (aka. Create i Beauty) is based in Hong Kong. My parcel was sent via standard post, and arrived in 10 days. (About a week and a half.) Generally, when ordering items from Hong Kong, it takes approximately two weeks for them to get to me. So I must have lucked out this time...
[[ And as always, I have to say: it's very important that online shoppers realize something about the ordering process from any website: a shop does not control how quickly the post delivers a package. That is, once a shop sends an item out, no matter what level of post it goes through (express or standard), the time it takes to get to you is out of their hands. ]]
-
So yeah- there's not a lot in the way of protective packing here. the lenses are, in fact, inside of the styrofoam block 'sandwich'. (See the pic below for a clearer idea of what I mean.) There are two other, smaller boxes inside the package as well: one has lenses inside of it, and the other has a lens travel kit.
I can definitely say I wish there was more packing for safety-- newspaper shavings, packing peanuts, bubble wrap, anything, really. :/
You can see more clearly how the lens vials are protected. They're surrounded by the styrofoam; inside, there are vial-shaped cutouts in the styrofoam that the vials are fitted into. Pretty cool.
(Here are the contents of this kit)
Above is the lens travel kit that was inside the small, white box. This had no extra protective packing, and although I don't tend to use travel kits, I know that these plastic cases can easily be damaged/cracked by only a little bit of force...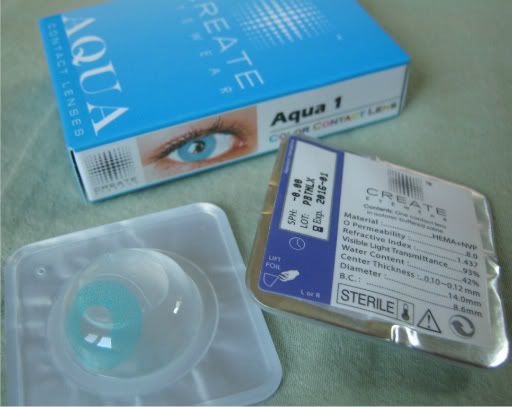 To get very technical, I probably shouldn't complain about the above lenses being unprotected, as those are in blister packs and not vials. (It's fairly difficult to damage/rupture a blister pack inside of a box, unless you're totally crushing everything around it.)
Finally, here are all the lenses I received~! ♥
-
So there you go: shipping and packaging information. As for communication, I sent them an inquiry, initially, and it took about 24 hours for them to reply to me. They replied to a second message in about the same time, so communication is great with this shop, as far as I've seen.
All in all, I'd always heard pretty good things about
ColorLens4Less
, and as it turns out, they were true. They ship out items in a timely manner, answer your questions to the best of their ability, and their site has a
great
variety of lenses-- especially costume/crazy lenses. (They also have some marked down EOS lenses~~.)
The only real 'fault' I had with their service was the packaging. Mind you, everything was packed pretty safely, and they did take care to put styrofoam around the glass lens vials, but I think they could do with even more and better safe packing materials for other items included in a parcel. ~~ Despite all that, I'd still suggest you check out the website: there are some gorgeous series therein that you don't see on too many sites. :]
-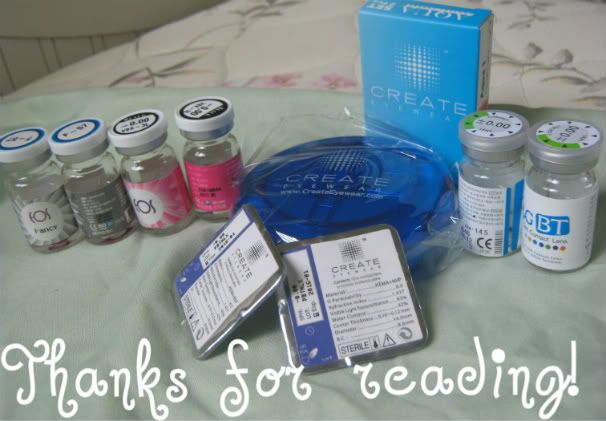 *
Video Review
You can see the video review
here
on YouTube, or just watch it below.