Look! Costume lenses! :DD (Bet you guys thought I'd never review another pair after the
'Purple Cat Eyes' debacle
.) These little pretties were kindly sponsored by the amazing
Kiwiberry1's Collection
. (I reviewed their service,
here
.)
♥- Don't forget to use the discount code,
NOXIN
, to get 15% off your purchase at Kiwiberry! <3 -♥
-
*
(This is what I looked like on Halloween~)
Enlargement: 8/10 At 14.5 mm, the Carnival 070 lenses are not super enlarging.
Colour/Design: 9.5/10 You have seen these lenses before. I know you have: it's one of the best known costume lens designs available. That being said, it's helpful to see real pictures of them being worn. This way you can see that the white is a very basic white: not blue-tinged or any such thing. The coverage of your natural colour is also amazing: I even catch a glimpse of white in the corner of my vision sometimes.

Comfort: 9/10 Usually, I rather expect costume lenses to be uncomfortable (they have more pigment or opacity, and are thicker than regular colour lenses). These, however? These are delightfully comfy~.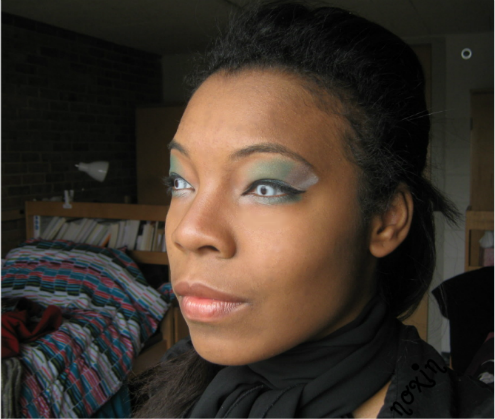 (I tried doing makeup for the first time, like, ever. :/ )
I've come to learn that having high expectations for costume lenses tends to lead to disappointment. Why? Because usually, the stock pictures' colours are not the most accurate. However, in this case, the stock picture of these very popular lenses was accurate. <3 They're great.