Hurrah! I'm back from vacation! : DD And I got
tanned
, y'all! (Well, tanner than I am to start with. xD) This review was completed before I left, so you can't see how many shades down I've gone. Haha.
Anyway
, these costume/fancy lenses were generously sponsored by
ColorLens4Less
(aka. Create i Beauty)-- you can see my store review
here
.
( Heh heh heh~. C:< )
Enlargement: 7/10 Eh. These are 14 mm, I believe, but whatever the diameter, these are barely enlarging.
Color/Design: 7/10 Well, as with about any costume lens I've tried, these are bright. They have a dark, red-violet ring with some 'spikes' going inward, and then a pale pink inside of that. Finally, there's a vertical pupil (aka. 'cat eye') running through the center. Yes, they're very vibrant, and perfect for cosplay/a costume, but I'm just not very keen on the violet and pink combo in a lens.

(flash)
Comfort: 6.5/10 Uh. These feel awful. Haha. Generally, costume lenses are thicker and cannot be worn as long as 'regular' colour lenses, yes, but it still sucks to have to deal with the dryness and discomfort.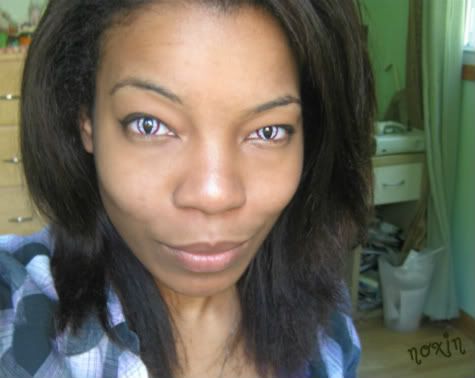 (Whenever I try to look evil, I just look hilarious. Haha)
Overall, I'm not a huge fan of the F-57s. :/ Usually, I love costume/crazy lenses, but this lens seemed to put together the only two elements I don't like: violet and pink in one lens, and a cat-eye 'pupil'. (I explain why I don't like cat-eye lenses in the video review: they look so weird when they shift around.) Meh. Hopefully I'll have better luck with future costume lenses~.
*
You can watch the video review
here
on Youtube, or view it below.