(So clearly, when I said 'look for the review on Sunday or Monday,' I actually meant 'look for the review on Tuesday, since the internet will crap out Sunday + Monday.) Anyway, these here lenses were sponsored by the ever-so-awesome
Apple of Your Eyes
(aka. Serenity Shop).
-
((If you shop there, Use my VIP referral code:
Noxin
, for another
5% off your purchase
at Apple of Your Eyes. [You already get
5% off
if you're a fan of them
on FaceBook
. -- You could also become a VIP member and get
10% off
to start with.] ))
- -
Enlargement: 9.5/10 The Kimchi Bambi series is 14.8~15.0 mm, and is a bit more enlarging than the G&G/Dueba/Candy Bambi 3-tone series.

Colour/Design: 9.5/10 This pink, like many from Vassen/Kimchi, is a purple-tinted pink. It is a medium shade, and is rather opaque. Of course, this has the typical 'Bambi'-style design that Geo popularized, but the inner ring of 'brown' is a bit different than most Bambi-style series: the blending colour turns out orange when worn. (Or at least, on me it does.) This creates an interesting effect when side by side with the pink portion of the lens: all of this simply makes these lenses' colour even more vibrant. <3
(flash)
- (Japan) Barbie Eye Super Nudy Pink vs. Kimchi Bambi Pink -
- EOS Max Super Neon (WM-209) Pink vs. Kimchi Bambi Pink -
Comfort: 9/10 These are about as comfy as any other Kimchi or Vassen lens, but because of the large diameter and the thickness of the pigment, they do tire my eyes out (or dry them out) earlier than other lenses.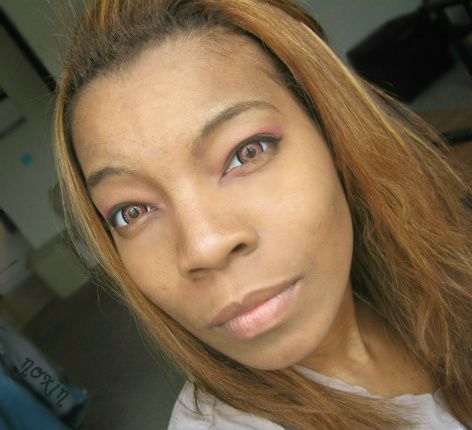 Overall, I was really excited to try these lenses and they didn't disappoint. They're dramatic and vibrant-- two of my favourite lens features. Haha. I kind of wish the pink was more pastel, but with my new hair colour, some pastels look weird. Still, the crazy, interesting colour they do turn out is just as lovable.
*
You can watch the video review here on Youtube, or view it below.