Merci a
Kiwiberry1's Collection
for yet
another
gorgeous lens with quick delivery. :] This time, it's for a pair of green lenses I
like
. *gasp* The GP-Type series has some gorgeous lenses--- don't be surprised if you see me with the greys sometime in the future. Haha
♥- Don't forget to use the discount code,
NOXIN
, to get 15% off your purchase at Kiwiberry! <3 -♥
My most beloved G&G GP Greens. So bright. And wonderful-- and super-cool next to the
GP Brown
, which I bought along with them.
*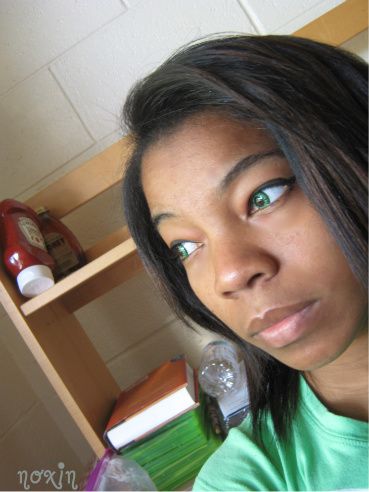 Enlargement: 8.5/10 Though they're 14.5 mm, they feel more like 14.2s or even 14.0s-- perhaps its not-overly thick circle? I'm used to seeing huge black circles on the bigger lenses. Either way, they really do look pretty enlarging, but unless I'm comparing one eye with the lens with one without it, I never notice...

Colour/Design: 9.5/10 The only reason this isn't a 10 out of 10 is that I wanted a little more colour from these. That is, the ring of colour is a bit thin for my taste (reminiscent of my disliked EOS Flower Greens)-- however, the colour is such a lovely, bright green. It's spring green: light, but not quite pastel, and with more blue in it. It'sjust very pretty overall~. (The first pic is their true-to-life colour.)

(low light)
(flash)
Comfort: 9/10 G&G's always really comfy for me, though not quite on par with EOS (or Neo).

Overall, these are my favourite pair of green lenses. Ever. Even compared with my new Neo Celeb Greens, and my awesome MI Dizon Greens, these GP Greens come out on top: they're just so effing pretty. ; 3; Especially when I find an article of clothing/an accessory with the exact same shade. Mmmm~. Methinks my search for the perfect green lenses, has ended. Happily. ♥ (So long as you include my Neo Celeb Green as part of the 'best green lenses ever' list.)