So I
finally
remembered to get my bum in gear and post a review for these eye drops. (What
really
got me typing was my finding
saaammage's little review
of the very same eye drops earlier today; I've had these eye drops for over a month now.)
Oops. Haha. Anyway, thanks to 'Batgirl' over on the
Soompi circle lens thread
for asking for a review in the first place-- sorry you had to wait half a month or so. <3
-
Packaging/Aesthetic: 5/5 Oohhh my gosh. Everything is so pink and glittery~. Nngh. Anyway, the eye drop 'bottle' came inside a box. Inside the box was a paper with the instructions and a tiny, plastic bag. Inside the plastic bag was the bottle of eye drops. Plus, the shape of Rohto's eye drops bottles (all of them, not just the contact lens ones I have) is unique: they're square/diamond-like.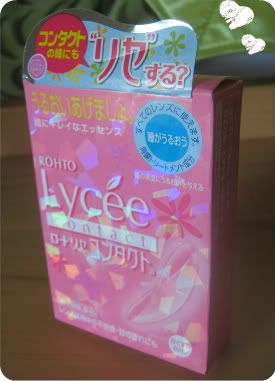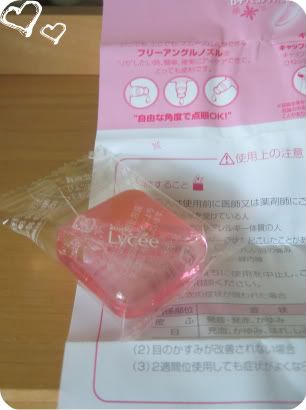 (The glitter~. @_@)
(Back of the bottle)
Moisture: 3/5 Honestly, I haven't had to use eye drops for contacts since my very first pair, about two years ago. Generally, I feel very little (if any) discomfort with my lenses, so to induce a dry feeling, I wore a pair of lenses I know are thicker/less comfortable: a pair of Geos. After wearing them too long (on purpose), the eye drops did help add moisture (and comfort), but not as much as I would have liked. My first pair of contact lens eye drops did a better job as I remember. Still, these eye drops did make the lenses more comfy.
Redness Reduction: 4/5 I didn't think to take a pic for before and after. (Derp.) But like all the other Rohto eye drops I've used, these worked fantastically to remove redness.
Application: 5/5
That is, how easy the eye drops are to use. Uh, basically, they're simple to utilize. Though there was a page of instructions in Japanese (which I cannot read), there was also a diagram with 3 or 4 pictures that was a good enough indicator.
Plus
, eye drops in general are pretty simple. Just get a drop or two in your eyes. (I use one.) The bottle may be square, but the dropper is as normal as could be.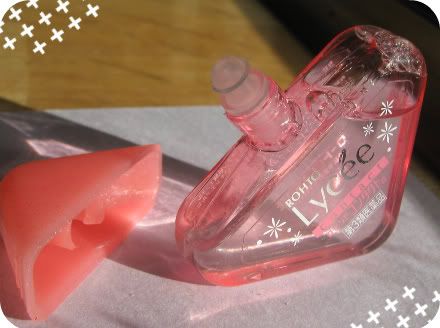 -
Overall: 4/5 This bottle of eye drops is gorgeous~. In fact, I really only bought them for that reason. I was pleasantly surprised to find that they're pretty awesome functionally, too. They're great eye drops for contact lenses. Not the best out there, but pretty damn good... especially for looking so pretty. ♥
---
I bought these from a listing
on eBay
for about 11 bucks, since the pink version of the regular Rohto eye drops aren't really available in stores in the US, much less the ones for contacts. ; 3; (The 'plain' version is easily found, though. I'm a fan of Level 3-- it's so 'icy' feeling, it's like dropping a mint into your eye.)