The title says it all: I went out last night for one of my best friend's 21st birthday. :] (We and a few friends walked about a half mile into town to a local brewery/restaurant for dinner n' drinks.)
Keep in mind that #1) it was freezing, and #2) we had to walk a good distance. No open-toe, heeled boots like I'd planned. :[ Anyway, on to the actual outfit.
*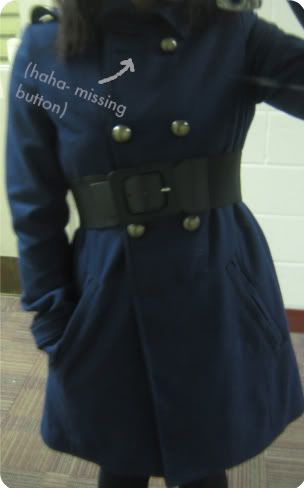 Coat: H&M; Belt: H&M
Blouse: H&M; Dress: H&M; Patterned Tights: ?? (Gift from my mum); Boots: Macy's
The Dress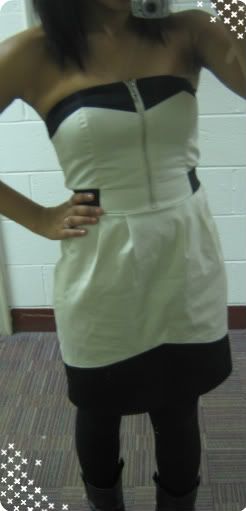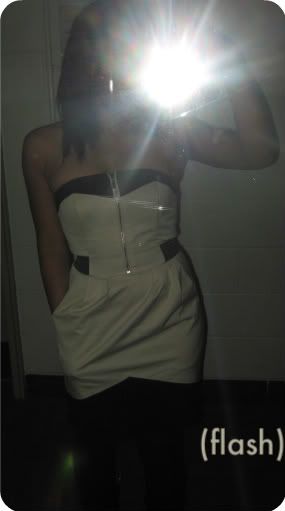 Accessories
'Bracelets' (Scrunchies): H&M
Bracelet: Charlotte Russe
Necklace: Charlotte Russe
* - *
Whew~! So there you have it: my first OOTD in a few months. (Oops...) I have two more prepared to post that I toootally forgot about. (Both are from late summer/autumn.)
Back to this outfit, though.... overall, I feel like it looks 'off'. :/ One part of it is that I don't like wearing tights with this dress, but patterned tights even less so. (I needed them for the warmth, though.) Another would have to be the several shades of black. The shirt and tights are the same black, but they don't match the black on the dress, or the boots. (To be fair... the boots are an ashy, dark brown-black.)
Luckily, since we went out so late, and the lighting wasn't too great, nobody could really
tell
any of this about the colours. Huzzah! : D And now I'm off to start soaking some new circle lenses I just received....