Alright, so these are my very latest violet lenses (and quickly trying to become my favourite ones ever). These EOS Cotton Violets were purchased from
Kiwiberry1's Collection
. --Which is one of the best shops out there, in my opinion. Good prices, great service,
amazing
range of brands and series, etc. Yes, they've sponsored me lenses, but I've also bought an equal amount of lenses from there myself, and the level of service is always the same. <33--
--- - ---
♥- Don't forget to use the discount code,
NOXIN
, to get 15% off your purchase at Kiwiberry! <3 -♥
-- - --


(And yeah.... I was too tired to bother with makeup, and I haven't done my hair in 2 weeks, hence the up-do. Forgive me, pleassee~. Haha.)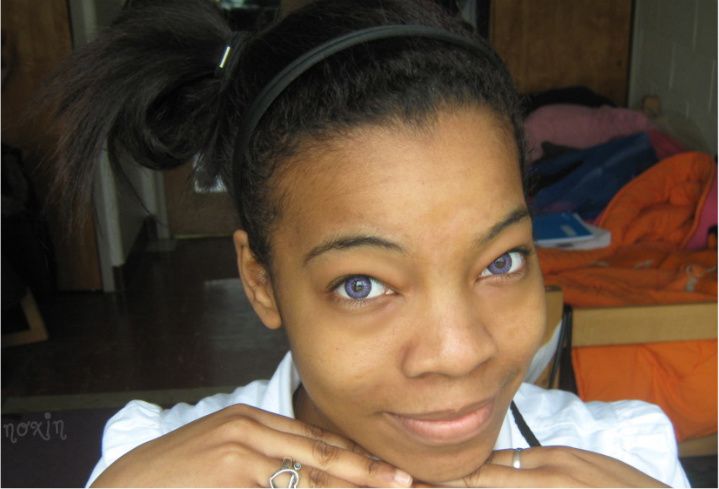 Enlargement: 7/10 These're 14 mm, which is my favourite lens DIA. <3 They do a decent amount of enlargement for 14 mm lenses. Not the biggest 14 mms out there, but not the smallest either.

Colour/Design: 9.5/10 Sooooo judging by the pics of Kiwiberry modeling the green (or were they grey?) EOS Cottons, and going from her description, this series is a light-coloured one. That was totally accurate. These cotton violets are very visible & light in colour: the ring is gorgeous. It looks like a cloud or something equally pretty. The black is spaced apart in a way that the ring looks either like a soft grey or a darker version of the lens colour. (It's more visible in the video review than in these pics.)

(flash)
Comfort: 10/10 Stop making me say how comfy I find EOS lenses. ; _ : (They're very comfy.)
Overall, I'm going to be cocky and say that I made a great choice here. 8) Haha. I wanted small lenses with a lighter shade of violet, and these really hit the mark. Simple review as I simply love these lenses.
*
The video review can be seen on Youtube,
here
, or just watch it below.