Ahh, and back to what I know best: circle lenses. Haha. Anyway, this is a review for the EOS (original) Adult Greens. The lenses were kindly gifted to me by
Review Circle Lens
(as a thank you for helping out with the site a bit). Remember to stop by and add your review! (Or, stop by and
look for
a review.) Or, you know, do both~!
Enlargement: 7/10 The original Adult series is 14 mm in diameter and pretty much as small as circle lenses can get.
Colour/Design: 9/10 These lenses are very vibrant and rather opaque. The colour is an intense sort of sea green that looks blue in a lot of lighting. (It even looks grey, on occasion, in pictures.) In real life, though, they look like the sea green colour.
As with the entire original Adult series, the ring/circle is a pale purple colour. Very unique~. The design also looks very crystalline in a lot of lighting. <3 But even fairly up close to the lenses, they tend to look rather natural. (I mean this for the whole series, too, having tried the
violet
and
brown
as well.)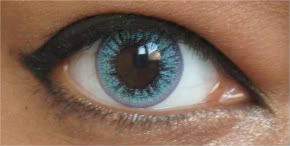 (flash)
Comfort: 10/10 EOS lenses and my eyes are essentially the best of friends.
(Yikes-- sorry I look so serious/morose. Haha)
Overall, these are about my favourite pair of green lenses in a long time. They're vibrant, have minimal enlargement, and are super comfortable for hours. The original Adult series has yet to disappoint me, really. I might just try the last two colours, grey and blue, so I can really name this as, pretty much, my favourite set of lenses ever. ♥
*
You can watch the video review
here
on Youtube, or view it below.