Hola~! So these lenses were
very
kindly sponsored by
EyeCandy Lens
. (Free shipping, y'all! <3) They're also known as the Kilala Popcorn Blue. :3
(Why does my skin seem paler than usual? Hm...)
Enlargement: 7/10 These lenses are 14.5 mm, but do not enlarge very much at all. <3
Colour/Design:
8.5/10 (The Popcorn series is the 2tone version of the
Seeshell Cat Eyes/Miss C Eye series
, which is 3-tone.) Alright, so
here
is what one advert pic for this lens looks like. Bright, right? :D Well, the lens itself is actually pretty bright in real life, it seems. As usual, they don't match the advertisements, but they are closer than I would have guessed. In most lightings, they turn out a lighter, sky-ish blue. Especially in photos. They can look dark in some
medium lighting
, though.


(flash)

- EOS Cotton (J-211) Blue vs. Seeshell Popcorn Blue -

- (Seeshell) Dolly Eye Cat Eye Grey vs. Seeshell Popcorn Blue-
Comfort: 8.5/10 Seeshell lenses are generally comfy for me, but dry out somewhat quickly.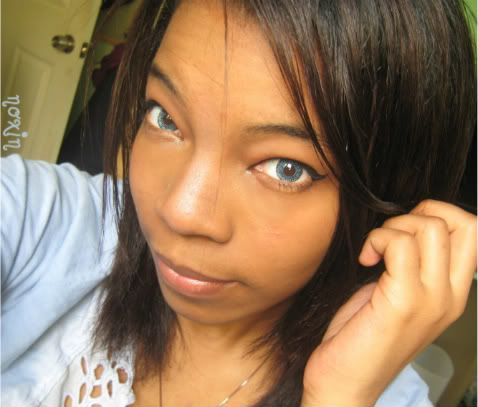 (Why yes: I did choose an unflattering angle)
Overall, I really like these lenses. I found love at first sight, and although they are not as bright a blue as I'd prefer, they're still
gorgeous
. Haha. (They actually remind me of another light blue lens I really liked, the
Geo Nudy Golden Blue
.)
You can watch the video review
here
on Youtube, or view it below.