Alright, so this may be my single
most
overdue review.
Ever
. I posted the review for these on Gaia and Soompi,
months
ago, and the video review way back when, too. In any case, I purchased these wonderful lenses from
the Apple of Your Eye
~.
-
((If you shop there, Use my VIP code: Noxin, for 5% off your purchase at Apple of Your Eyes. (Not during the current mid-year sale, though: you'll get $3 off per pair))
((On that note, if you become a VIP member on AoYE, you get 10% off lens prices & free shipping for 3 pairs or more))
Enlargement: 8.5/10 Pfff- for 14.5 mm, these lenses look/feel huge to me.

Colour/Design:
9/10 Well, after I tried the
i.Fairy Ruby Red
, I tried these, hoping for a brighter red with more coloured area. I struck gold! :D These
definitely
have more coloured space than the Ruby Reds, and therefore, seem like a 'lighter' red. <33 This colour really 'pops' in any lighting.

(flash)

- i.Fairy Dolly+ Red vs. i.Fairy Cherry/Candy Soul Red -

- i.Fairy Cherry/Candy Soul Red vs. i.Fairy Ruby Red -
Comfort: 9/10 i.Fairy/Vassen lenses are always pretty comfy for me. :]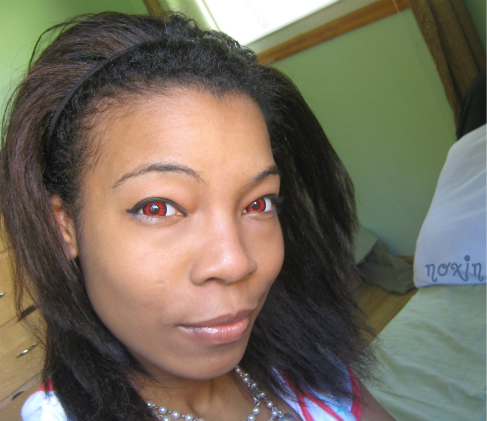 (Yikes: old pic is old... and weird...)
All in all, these are a solid, good choice for a bright red lens. I've seen them used for cosplay quite a few times, too, with great effect. C: If I wasn't so enraptured with my MI E-Type Reds (which are also very overdue for a review), I'd re-buy these when they expire.
*
You can watch the video review
here
on Youtube, or view it below.
(Months old video is months old, too.)