Have you ever seen a lens and just 'needed' it? Because that is
exactly
how I felt about the Maki Yellow. <3 I rarely have such a visceral reaction to a lens, but these just looked
so
amazingly bright and golden and unique. So a resounding 'thank you!' to
Apple of Your Eyes
is necessary for their sponsorship of these lenses.
-
((If you shop there, Use my VIP referral code:
Noxin
, for
another
5% off your purchase
at Apple of Your Eyes. [You already get
5% off
if you're a fan of them
on FaceBook
. --
You could also become a VIP member and get
10% off
to start with.] ))
- -
(Late afternoon/evening: low light)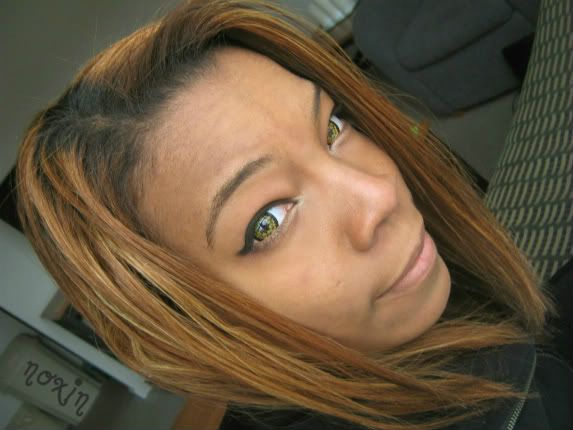 (Yes! New pic! [:< )
Enlargement: 8.5/10 So these are approximately 14.8~15.0 mm, I believe. Whatever the exact diameter, they enlarge rather well, but not an excessive amount.
Colour/Design:
9.5/10 These are yellow lenses. I like yellow/gold lenses. Therefore, I like these lenses.
A lot
. C: As far as the colours in the lens, there's a goldenrod/orange sort of colour on the outside, and an almost greenish yellow in the middle. Both are super bright + opaque. The design/pattern is
completely
unnatural- there is not a chance that anyone will mistake these for your true eye colour. Haha.

(flash)
Comfort: 9/10 These are just as comfy as other lenses from Sun&Bon/i.Fairy/Vassen. :] (That is, very comfy.)
All in all, I LOVE THESE LENSES. Oh my gosh, do I ever love these lenses. They are light, opaque, and unnatural to boot. ;P I love it~. I'm thinking about trying the Maki Grey, too, if they might be this light.
*
You can watch the video review
here
on Youtube, or view it below.