Alright, so who has seen the gorgeous advert pics for the
Miss Eye Sakura series
floating around the web? Pretty, right? Well, you'll be glad to know you can find it as the G&G/Dueba ML4 series! (It's also known as the 'Daisy' series and occasionally, the 'Peony' series.) My pair in particular were kindly provided by
Kiwiberry1's Collection
! <33 You can stop by for your own pair, too~.
♥- Don't forget to use the discount code,
NOXIN
, to get 15% off your purchase at Kiwiberry! <3 -♥

Enlargement: 9/10 For only being some 14.5 mm or so, these enlarge a lot on me.
Colour/Design: 7/10 The design on these is absolutely adorable, I think. So is the actual colour of the lenses when seen by themselves. (Golden yellow = gorgeous.) Unfortunately, said colour is not very opaque. D:

If you get a halo effect (as seen in the picture[s] below), then you will definitely get that bright, golden brown, but otherwise, it looks like any other dark brown lens. If you prefer a lens that blends fairly well, with an intricate design, these fit the bill.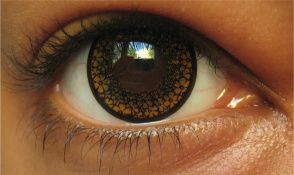 (flash)
Comfort: 9.5/10 Actually, these were extraordinarily comfortable. I always find G&G/Dueba lenses comfy, but these were great for me. :]
(No makeup! Hooray!)
Overall, I am not super fond of these lenses, but I do not dislike them. If you know me by now, you know that I like bold, bright colours, usually, and these do not fit that bill. (Except under flash, or other bright lighting.) They are very dolly, though, so if you really want that glossy, doe-eyed look,then these are pretty much precisely what you're looking for. ;P
And here are the extra pics, as usual:
One
,
Two
,
Three
,
Four
,
Five
,
Six
,
Seven
,
Eight
,
Nine
, and
Ten
.
*
You can watch the video review
here
on Youtube, or view it below.