Alright all, so this is almost the last review featuring 'old pics': only the one for Geo Nudy Golden Blue is left, thankfully. :] I tossed these lenses, so only old pictures remain...
*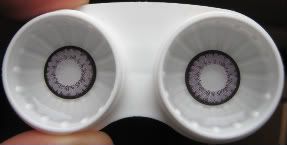 Okay, so here's the review for the only pair of circle lenses I've ever legitimately disliked: my Bescon Tutti Circle Violet (3 mth./quarterly). I first got these lenses because the ever-gorgeous Ginger posted pics of
her Tutti Violets
over on the Soompi CL thread. And I went. "o: <33". So I hopped on over to a website called AmazaingEyez (which has since been closed/shut down sue to customer complaints/issues), and bought me a pair. I got them and they came in blister packs (pic
one
and
two
), and the
box
those
came in said that they were quarterly (3 mth.)-- not 1 yr...
Crud.
*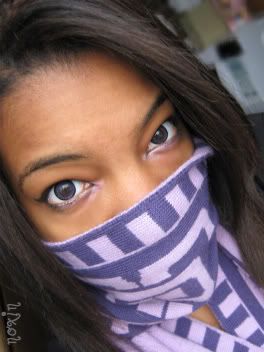 Enlargement: 8.5/10 They seemed really big, especially for 14.0 mm lenses- maybe it's beacuse they were so dark? They also seem way larger than my Tutti Circle Greys.

Colour/Design: 7/10 Meh. The colour's just 'alright'. :/ I was expecting a colour as bold and vibrant as the brown and grey in this same series, but the violet's really washed out/murky. I actually thought they might be defective for a while, but often times, the quarterly versin of a colour lens will be less opaque and vibrant than it's yearly version. Lesson learned.

(flash)
Comfort: 7/10 Nooooot all too comfortable, contrary to what I'd always heard about Bescons. Huh. Although,they did start to feel better after they'd been on for a few hours. Nowhere near as good as the (yearly) Tutti greys, though.
(flash)
Overall: I rather disliked these lenses. I suppose that with the prospect of finally getting a pair of Bescons (Tuttis, at that), I just assumed those lenses would be amazing and wonderful and the best ever. (Which they were not.) By no means were they truly ugly- they were just... below my expectations for a pair of Bescon Tutti Circle Lenses. Still... $26 bucks was a fantastic price, and any disappointment is on me for biting. C: Still, others liked them, so they couldn't have been too bad.
*
No video review for these-- tossed 'em at the 3 month mark, which was before I started doing video reviews, plus, I typically don't keep lenses I dislike long enough to do a video review. Haha. So you'll not see any for my EOS Flower Green or my Dueba DM25 Grey. Only HTML reviews for them-- sorry!