Last weekend, I went there with mi madre, and bought an entire outfit for, like, 30 bucks. Nngh. :3 So good.
However, my favourite piece that I bought has to be these black pants-- jeans rather. (Skinnies? Boot cut? I can never tell.) Either way, here're a few pics-- they look horrid on the rack/by themselves, but they look pretty rad when actually being worn, I think. 8) Yeahh~
*
In natural light...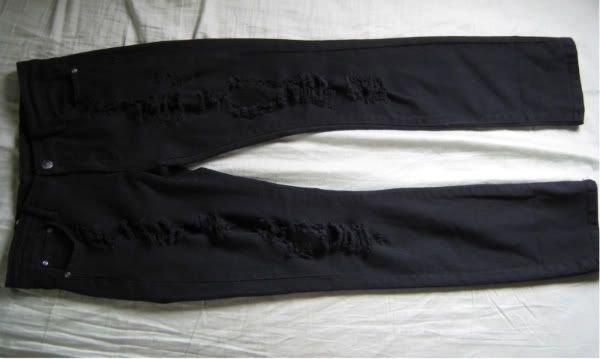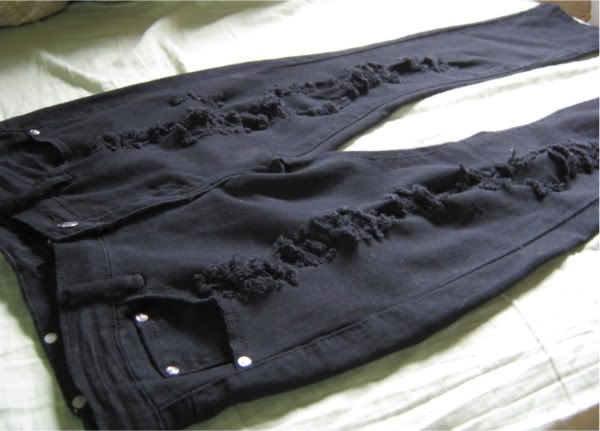 (This is about as 'hardcore' as I get, by the way, aside from music taste. Ripped jeans--
oohh~
. )
In wonky dressing/fitting room light...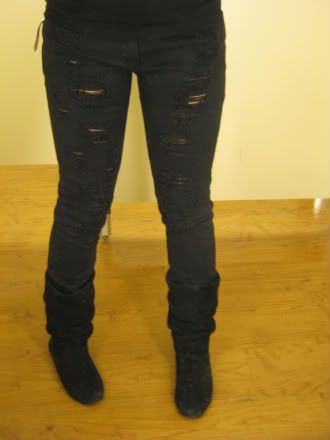 (Oh geez- I've got my foot cocked in, don't I-- sorry!) Anyway, if I ignore how god-awful those boots are, I can definitely see myself wearing these pretty often. Pants sometimes fit me awkwardly-- especially if they have rips/distressing so these were a miracle to find.
Add in that they had a size 3 left, and that they're the first pair of pants I've bought in
months
, and you get a winner. ♥ So... here's me shutting up. I think instead of showing new stuff, next time I'll just do an outfit post. :]] That'll be... after tomorrow's circle lens review, I suppose...or instead of it. >.>