Well, the title's self-explanatory: this post is aaallll about headphones~.
And as the title
also
implies, there was, indeed, a
part one
to this headphones post. Therein, you'll see that I was planning on buying another pair of imitation
Mix-Styles
, but in white and pink. What has
actually
happened is that I've managed to re-buy my 'lost' Pink Rose headphones by Swimmer. (Seen below.)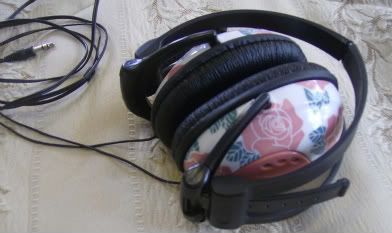 It cost a pretty penny, but I won the auction on Yahoo!Japan, and will hopefully be receiving them --along with a certain popular circle lens-- in a parcel from Japan soon. :33 (Perhaps this time, my father won't put these out in the rubbish bin. Guh.)


Oh! And I happen to also have developed an affinity for the following headphones, but cannot choose between them! D:
Brand: EarPollution
Brand: Audio-Technica
Brand: EarPollution
-
WHICH ONE DO I WANT?!! @_@ On the upside, since I'll be buying from
Headphones.com
, I have two things working in my favour:
1.)
free shipping within the US, and
2.)
10% off my total with the coupon code
pandora10p
. (Looks like listening to
Pandora
finally--
literally
- paid off. Haha.)
And that's all folks~! Next time I post, I should have a circle lens review, as usual. C: And be prepared for 'Headphones!! (Part 3) once my Swimmer headphones come in!