Okayyy, so these Dollyeye Greens were a lens one of my YouTube subscribers asked me to review. I've also always wondered exactly how bright these lenses are. So thanks so much to
Kiwiberry1's Collection
for the sponsorship and the fast delivery, as usual.
♥- Don't forget to use the discount code,
NOXIN
, to get 15% off your purchase at Kiwiberry! <3 -♥
Colour/Design: 9/10 So yeah. These are vibrant. Not surprising for a lens from the Dollyeye series. Haha. But anyway, the green is actually somewhat difficult to describe. It is not a light green, but the lenses are so opaque and vibrant that the colour is visible in most any lighting. I'd say it's a medium green-- more yellow-green than blue-green-- that is very bright.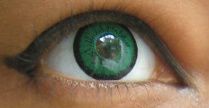 (flash)
- EOS Flower Green vs. EOS Dollyeye Green -
Enlargement: 7/10 These are 14.2 mm and not very enlarging at all (which I love~).
Comfort: 10/10 As with the rest of my EOS lenses, these are super comfy. (Although, for reference, compared to other EOS series, the lenses from the Dollyeye series seem to dry out faster. (My best guess is that it's the fault of the super opaque pigment and its massive area of coverage.)
Overall, this is a lens that I'm pretty much totally neutral on. They're gorgeous, but I am neither enamoured with them or likely to toss 'em out any time soon. *shrug* I can certainly match them to a few outfits, so I'll definitely be wearing them in the future. The vibrancy appeals to me, but green isn't a colour I often get excited about.