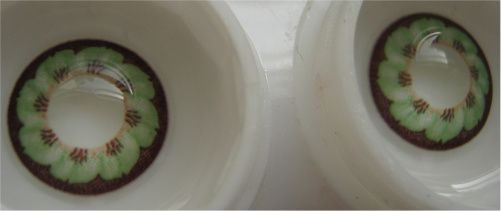 Hello! So a very small number of you who have A.) gone back through my old posts, or B.) have been following me for
that
long, will remember that yes, I have already
reviewed the EOS Flower Green
. (Over a year ago, I believe.)
However, when I was recently sponsored a pair by the lovely shop,
Fobby Barbie
(♥
three days for shipping
♥), I was put in the unique position of being able to try a lens a second time, with a year of new lens experiences to possibly change my opinion. Read on to see what-- if anything- has changed~.
Enlargement: 7/10 This series is often listed as being 14.8 mm. (I'm pretty sure it's 14.2, though. Haha.) In any case, the enlargement effect is closer to a lens of a 14.5 mm DIA.

Colour/Design:
6.5/10 This shade of green is easiest described as a true green. That is, it reminds me of a less neon-bright version of
Crayola Green
. I very much like the colour itself, but I am not so fond of the lack of coverage. These lenses look like a very thin ring of green on my eyes. (Mind you, it is an elegant, petal-patterned ring of green, but I feel that it is hardly visible. :/ )
(flash)
Comfort: 10/10 Comfort-wise. these are on par with all my other super-comfy EOS lenses~.
Sadly, I don't like these lenses any more than I did a year ago. In fact, with all the great green lenses I have bought since I first had these, my opinion of the Flower Green may have even went slightly further downhill. >.>' Oops. What's weird is that I still believe the EOS Flower series has one of the prettiest designs out of any circle lenses I've ever seen. They just don't have the sort of coverage (or colour) I favour.
*
You can watch the video review
here
on Youtube, or view it below.