It's actually a pretty simple story: my lil' sis was over, we played games all night, and at some point, I decided it was time for a haircut. Fast forward to me showering and washing my hair, and then sitting down on a stool in the middle of my room.
I handed over the hair cutting scissors and told ma sœur (my sister, that is) to "cut off whatever you feel like". (I was feeling risky that night, I suppose.) Luckily, she's a pretty level-headed gal with a good eye for cutting hair, so I didn't lose too much off the ends.
Only 4 in. (10 cm.) or so. :]
I'm keeping my hair natural now, so you can't really tell how much shorter it is, as the curls already make my hair look short. Haha.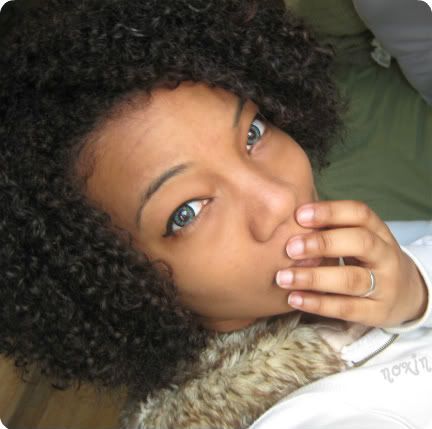 I'll eventually update with 'Before & After' pics the next time I can be bothered to straighten my hair. (It'll be a while, probably, as I usually leave my hair natural during spring and summer.)
---- - ----
And I camwhored (as usual), so here're two extra pics of my tresses, post-haircut:
(The red dye faded, so my hair's just brown-ish now...)
(Oh! And I finally got my brows done again. :D )
---- - ----