Sorry for going AWOL-- all shall be explained in a future post. o: As for today, here's an older review for another one of the very few circle lenses I do
not
like (or rather,
didn't
like, since I no longer have them). These, like several of my other lenses, were from
De Moi, Pour Vous
. <3 Love her sales/promos! :]
*
Enlargement: 8/10 These're 14.0 lenses, but they do provide some enlargement. C: Not my most enlarging pair of the same size, but still noticeable.
Colour/Design: 7.5/10 Wow, the petal pattern is so pretty, I just can't get over it. <33 And the green has this almost iridescent,fantastical quality about it. Lovely design and colour, just not fitting for me in the end. I would have liked to see more colour: on me, it looks like a thin ring of green and I'd rather like more coverage.


(flash)
(direct sunlight)
Comfort: 10/10 As I've come to expect from EOS lenses, these're crazy comfortable. <33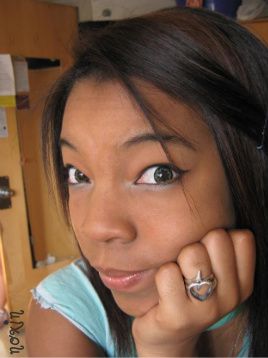 Overall: These lenses were gorgeous, but not right for me, sadly. Indeed, although I had wanted to try green lenses for ages, I ended up not keeping these ones. Yes, they're subtle and pretty and such, but I suppose I wanted more noticeable lenses. So consider me on the hunt for sea-foam, spring, or forest green lenses with a good bit of coverage.
*
Once again, no video review, friends. Sorry! But you know how it goes: if I got rid of the lenses, there's no video review~.