Soo... my blog died for a week. Haha. Oops. Sorry y'all. <33 Also, in ~~hair news~~, I may have cut my hair a few more times in the past few days. It's slightly addictive...

Back on topic, though
, these are the a pair of lenses I was
dying
to try out. As you'll remember, I
love
the
Cotton Violets
I got a while ago. And with that in mind, I figured I'd like to try a few other colours from the series, thanks to
Kiwiberry1's Collection
. ;P
♥- Don't forget to use the discount code,
NOXIN
, to get 15% off your purchase at Kiwiberry! <3 -♥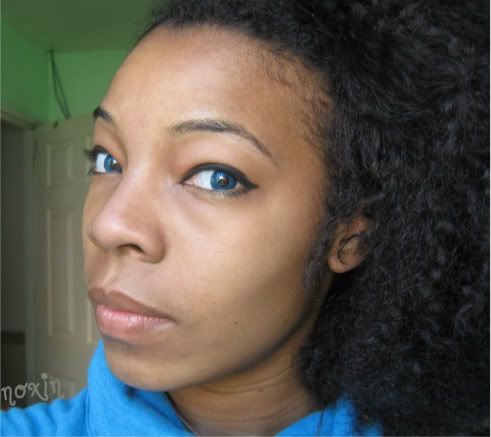 (Weird: that stray curl makes it look like a I have a sideburn..)
Enlargement: 6.5/10 These lenses are 14 mm (I opted not to go for the 14.5/G-211 or 14.8/WM-211 versions, as I prefer smaller lenses). Anyway, the J-211s have a minimal enlargement effect.
Colour/Design: 9/10 I've explained the EOS 211/Cotton lens design in my review of the violets: the 'ring' is a dark grey that fades inward, and gives the colour the effect of lightening + brightening toward the center. And on top of that, the ring itself looks like the outline of a 'cloud', almost. Or perhaps a doily. The colour is in between a medium and light blue, and is very vibrant. I ... was just expecting a much paler/pastel blue-- on par with how light and pastel the violet was. That's the only reason these didn't get a full 10 out of 10: because I'm picky with my blue lenses. Haha
(flash)
(direct sunlight)
- EOS Cotton (J-211) Violet vs. EOS Cotton (J-211) Blue -
Comfort: 10/10 I should stop writing explanations in this category in EOS lens reviews. Haha. This brand is simply super comfy to me. <3
Overall, I'd say these are some awesome lenses. They fall right above the middle range in terms of blue lenses I've had: the BT02 Sky Blue still hold the #1 spot, but these are a close second with the adorable design and super vibrant colour. ;P I'm excited to try the grey in this series next!
*
You can watch the video review
here
on Youtube, or view it below.