Alright, so these were my first pair of 'big' lenses: they're 14.5 mm. I got them from the much-beloved
De Moi, Pour Vous
. It took me quite some time to get used to these lenses as I thought they made me look like an alien (I still kind of do...), but they've grown on me. :] Now I wear them fairly often, for lenses I'm not too fond of.
Enlargement: 10/10 Oohhh boy: they. Are. HUGE. Like... beyond big. I think I've found my max size in terms of circle lenses. I now cannot imagine wearing 14.7, 14.8, or --gawd forbid- 15.0 mm lenses. As I've mentioned, I find these to be almost too big on my eyes.
Colour/Design: 9/10 Like all three of the lenses I got from De Moi Pour Vous' BOGO free promo, I got these ones on a whim. Basically, I wanted to try a pair of 14.5 mm lenses as I'd never had any. They're very pretty and the design's super-cute. These Candy Magic/King Size/Pop C. Light look-alikes are adorable. ;3

(flash)
Comfort: 10/10 Do I need to explain how comfy EOS lenses always are for me? Very. ♥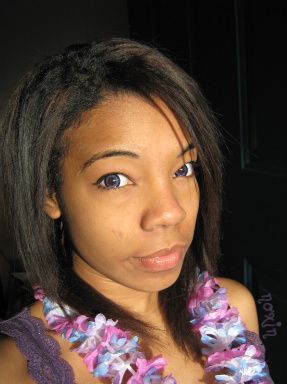 Overall: These lenses have a gorgeous violet colour. They're not as dark as my BT02 Vi's, but not as pale/pastel as my GBT Vi's. It's a simple, pretty, purple. However, they are big. Very big. Nearly too big for me, I feel. Even with makeup, they seem to give a bit of an alien-eye effect. I dunno'. Bahhhh~. Either way, they're damn pretty, and super-comfy. They're also very easy to match, and even go well with my skin tone. I just don't wear them too often.
*
Video review can be found
here
or right below.
*
Also-- random extra pic!